Exeter and District Women's Welfare Association (1930-1965)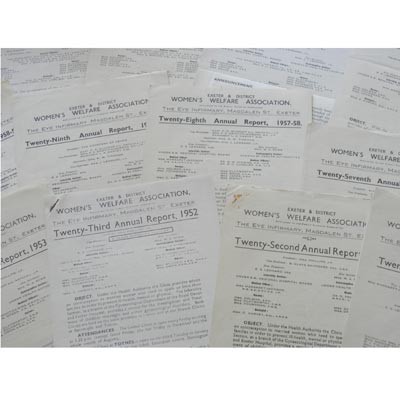 "If you don't take it, I'll throw it away." Museums, archives and libraries are familiar with such statements from disappointed donors. As a young museum, and thanks to the small scale of our exhibits, a spot can normally be found in our storage space for such contributions.
This is how a bundle of annual reports from the Exeter and District Women's Welfare Association became part of our holdings. The association was founded in early 1930, and its first chairperson was Lady Acland. Its goal was to ensure the provision of "medical advice on Contraception to those married women who are unable to afford the fees of a Doctor, and who, as this information is very rarely given at Municipal Welfare Centres, would otherwise have to rely upon hearsay, or on other unreliable or undesirable sources." At that time, families with 14 or 15 children were not rare.
The association had consultation hours every Friday from 2 to 4 p.m. in Exeter near the fountain, and Dr Margaret Jackson and the nurses who assisted her were all volunteers. In the first year, they saw 145 women, and 842 patients came to them for the first time in 1965.
These annual reports cover the years 1930 to 1965, and despite their brevity, they shine an interesting light on the association's difficulties and successes and the growing extent of their work. From a medico-sociological perspective, it's worthy of note that the association's activities focussed on married women exclusively, even in the 1965 report.