Hermine Heusler-Edenhuizen (1872-1955)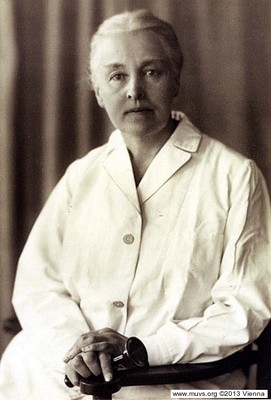 Berlin gynaecologist Dr. Hermine Heusler-Edenhuizen (born 1872), a pioneer for modern birth control, died on 26th November 1955. Unfortunately, her campaign demands are no lessstill relevant today: provision of contraception free of charge through Health Insurance Funds and welfare associations as well as maximum prices regulation for abortion, paid for by the insurance company for those without financial means.

Heusler-Edenhuizen was one of the first women in Germany to complete her 'Abitur' (the German equivalent of Britain's A-levels or France's baccalaureat) and was the first woman to go up to Bonn University to study medicine: as late as 1898 a conference of doctors passed a resolution against admitting women to study medicine. Despite all the barriers, Hermine completed her medical training and in 1906 set up a practice as the first female doctor of gynaecology and obstetrics in Germany. She was married and had two children.

Abortion ban: "The number of saved germs is fictive"
The extensive social and political discussion about the abortion ban (paragraph 218 of the German Penal Code) in the 1920s was ignited by the dramatic economic conditions and the incredible housing shortage. Heusler-Edenhuizen said about the supposed protection afforded by the abortion paragraph "the number of women made miserable is limitless, the number of saved germs (Note: this means embryos) is fictive; and the instructive effect that the paragraph is supposed to have is just as fictive… a destitute population will not allow itself to be instructed by a paragraph of criminal law to further destitute itself, but in despair does what it can to help itself, as well or as badly as it can".

For Hermine Heusler-Edenhuizen it was about the right to life of women and children. In particular, she decried that paragraph 218 only punished the women, perhaps also the doctors, but not the men who obliged the women to get abortions. Together with other women doctors she presented a petition to the German Parliament for paragraph 218 to be rescinded and replaced with a special law, to be drawn up in consultation with women, that should contain the following five points:

• Education of the wider public about all aspects of sex life and contraceptive options.
• Awareness raising and unrestricted sale of contraceptive methods that have been tested by the State and found to be safe (Note: the sale of contraceptive methods was still banned at the time!)
• Distribution of contraception free of charge through Health Insurance Funds and welfare associations for health insurance policy holders and those without financial means.
• Pregnancy termination to be allowed only with the permission of the pregnant woman and only by an approved doctor, for a fee not exceeding an established maximum charge, and at the cost of the insurance company for policy holders and those without financial means
• Comprehensive welfare measures for mother and child

The Nazi period set everything back.

When the National Socialists came to power in the early 1930s, the social and political progress that had been made was wiped out and things even got worse, because from 1933 the National Socialists misused abortion as an instrument of race and population policy. Consequently, it took until the 1960s and 1970s before the issue once again became the subject of broad public debate and, with the liberalization of the abortion law in 1975, women were finally given the right to decide for themselves about their own bodies.

As well as campaigning for the abortion ban to be overturned, Heusler-Edenhuizen also fought for pain-free birth and tried to combat the often fatal childbed fever. In 1935 she was summoned as a key expert witness in a politically motivated trial against a colleague for the crime of commercial abortion causing death, but was able to rebut the prepared 'evidence' for the indictment.

As well as her work as a doctor and her political activism, Heusler-Edenhuizen also supported broader public awareness about sexuality: in presentations and publications she explained to people about the gender differences in the emerging sexual characteristics of young people, about sexual hygiene and about the different ways in which men and women experience sex and the potential for conflict that that produces.

Five years ago a memorial plaque to Hermine Heusler-Edenhuizen was put up on the building where she lived. Several biographers have written about her life and her achievements.