Else Kienle (1900-1970)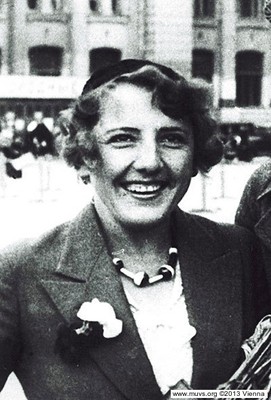 "The unwanted child represents the true horrendous, dreadful and most deadly disease."
"Forcing women to bear children represents a disgraceful violation of the most basic of human rights, that of both mother and child. The fact that motherhood could become such a dire problem is shown by the profound sickness in our time. And as has always been the case in the history of humanity: the symptoms are fiddled with while the causes are not addressed. Everyone offers their aid as a helping physician: the state, business, the church. Wonderful new reasons are provided constantly, thousands of pieces of evidence are furnished to prove that, under any and all circumstances imaginable, beginning life is of absolute value and must be protected at all cost." (Else Kienle, Women – From the Diary of a Woman Doctor, 1932)
On 28 March 1931, Dr Else Kienle of Stuttgart was released from detention pending trial after serving six weeks: she had been arrested on suspicion of providing abortions on a commercial basis. In fact, she managed the sole counselling centre of the Imperial Association of Birth Control and Social Hygiene and performed abortions at her clinic. However, the court called the permitted medical indication into doubt: "If no illness that poses an immediate danger to the pregnant woman's life is present, the law dictates that the child be carried to term, regardless of any external or internal circumstances that might conflict."
Dr Kienle responded with her experience as a doctor: "The social plight is simultaneously a medical one. Is malnutrition a social or medical problem? When seven individuals live together in a tiny room, does this represent an economic argument against carrying a pregnancy to term, or is it medical also?"
The arrests of Dr Kienle and her colleague, physician and writer Dr Friedrich Wolf, were met with protest rallies and demonstrations. While imprisoned, they entered into a hunger strike. After both physicians were released before being tried, they headed a popular movement opposing Article 218 of the German penal code, according to which abortion was illegal, and an event at Berlin's Sportpalast that they organised was attended by a crowd of 10,000. "As we believe that a law, regardless of how much more moderate or to what extent it is altered, cannot be effective in the face of such misery and the general plight – because we know that each and every article of criminal law can only result in additional misery, we call for an entirely different arrangement with no penalties of any kind."
After the National Socialists seized power, Dr Else Kienle emigrated to New York.