A 10 year old rape victim is being denied an abortion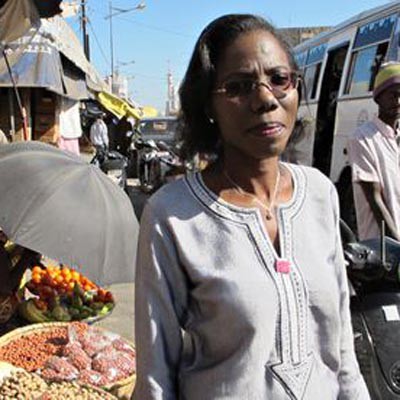 In 68 countries, abortions are illegal or permitted only when the woman's life is in danger. They include a number of former African colonies, from Angola to Uganda, and Senegal in Western Africa, which is half the size of Germany and has a population of 12 million. Though independent since 1960, its Napoleonic law banning abortion is still in force.
Aminata Touré, when she became the country's prime minister in 2013, announced her intention to change the law, but this hasn't happened yet. Before an abortion can be performed legally, three doctors must certify that the woman's life is in danger. Which is virtually impossible in practice: "Poor people in Senegal are lucky if they see one doctor in their lifetime", said the president of Senegal's women lawyers' association Fatou Kiné Camara (Photo). They're unable to afford it, as a medical certificate costs about 20 US dollars.
Recently, the British media have reported on the ten-year-old, who's five months pregnant with twins after being raped by a neighbour. Because there's no chance of her receiving a legal abortion, the women lawyers' association is focussing on ensuring that she gets regular scans and free medical care.
In the first six months of last year alone, 40 women were arrested for illegal abortions or infanticide, and each one's facing up to ten years imprisonment. A doctor or pharmacist found guilty of having a role in a termination faces being struck off.
A decade ago, Senegal ratified the African charter on the rights of women, but its provisions – the availability of legal medical abortions after rape or incest, or in case the women's mental or physical health is endangered – have never been added to the statute book.
Source: The Guardian Weekly, 4 April 2014