USA: Even art is censored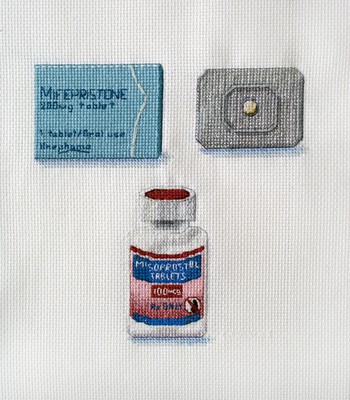 Six works by established and multi-award-winning female US artists were removed from an exhibition at the end of February 2023 at the Lewis–Clark State College Center for Arts and History in the state of Idaho in order to comply with the "No Public Funds for Abortion" law (Idaho Code 18-8705). It prohibits any collaboration or other business relationship with an abortionist or the business partners of one. Even public employees – such as nurses or school doctors – are not allowed to provide advice in this regard, let alone referrals. According to the college in Idaho, the law also prohibits the use of government funds for providing information about abortion, which is why the works of Michelle Hartney, Katrina Majkut and Lydia Nobles were banned the day before the opening of the exhibition "Unconditional Care: Listening to People's Health Needs." The exhibition addresses chronic diseases, disabilities, pregnancy, bodily injuries and gun violence.
Three documentaries and one audio sample come from the series As I Sit Waitingby Lydia Nobles from New York, in which she deals with the gender-typical effects of social constructs.
Michelle Hartney, from Chicago, focuses in her work on topics such as reproductive health care. The exhibition was supposed to contain the reproduction of a letter from the 1920s with which a sick mother had approached Margaret Sanger, the founder of the organisation Planned Parenthood, to ask for accessible and affordable help.
Katrina Majkut curated the exhibition, in which she also displayed her own hand-embroidered images, featuring the two abortion drugs mifepristone and misoprostol. She thereby continued her embroideries on the theme of condoms, pill packages, coils and pregnancy tests, which we already feature on the following page of ours: https://www.muvs.org/de/museum/projekte-und-initiativen/stickbilder/https://www.muvs.org/de/museum/projekte-und-initiativen/stickbilder/
In solidarity with the artists, the women affected and the protesting organisations, we have included the "banned" works on our homepage. You can view and listen to them here:
https://katrinamajkut.format.com
https://www.lydianobles.com/about
https://www.michellehartney.com