1929: Sophie R., repeatedly prosecuted midwife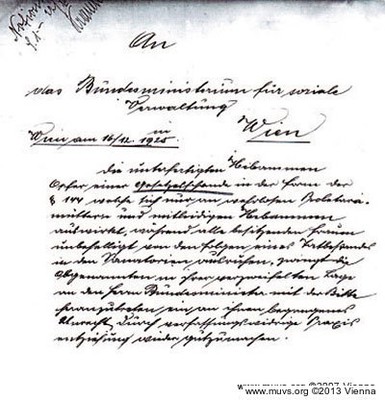 Because she is responsible for the household of her husband, the 47 year-old midwife Sophie R. is "only" sentenced to eight months of harsh imprisonment heightened by one day of fasting and deprived conditions every three months in the year 1929.
She is accused of causing the death of the pregnant housemaid Antonie N., a single, 21 year-old resident of St. Pölten. Antonie died at the hospital of ulcerous peritonitis caused by the mechanical intervention using a catheter, according to the autopsy report.
The midwife who already had a criminal record at the time, was paid 300 Schillings for the intervention. Upon being searched, medical instruments are found at her apartment.
The court physician deems her unfit for arrest upon a diagnosis of lung and nerve sickness. Several appeals for clemency requesting a waive of arrest are submitted. These requests are however denied given a "lack of especial reason making them worthy of consideration."
Sophie R. had been a midwife for 25 years and desperately seeks to recover permanent residency status, having no other form of livelihood and given that her husband suffers from gastric ulcers. All requests are denied with the comment that "her offense proves her unreliable."
Franz H. had brought Antonie N. to the midwife in Vienna out of sympathy, explaining to her that the girl suffered from syphilis. He submits a full confession. Because he is responsible for two underage children, he is only sentenced to three months of harsh imprisonment with one day of fasting and deprived conditions once a week.
Source: Archiv der Republik, III-86.789-10/29